International Day of Zero Tolerance for FGM 6th February
On Thursday 3rd February, John Coster, Parallel Lives Network Director and Delta, DMU Year 1 Journalism student, hosted a content gathering session at the She Inspires Global Community & Enterprise Hub in Leicester.
Zinthiya Ganeshpanchen, CEO of the Zinthiya Trust invited us to speak with staff and visitors using the Hub over three hours to capture content covering existing knowledge and views on FGM.
The Documentary Media Centre has hosted International Day of Zero Tolerance for Female Genital Mutilation (6th February) newsrooms for the Zinthiya Trust since 2017. The charity provides specialist one to one support to prevent domestic abuse, honour-based violence and FGM, undertaking teaching courses covering healthy relationships and how to recognise the warning signs.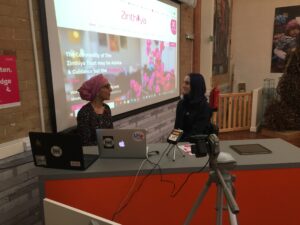 Female genital mutilation (FGM) comprises all procedures that involve altering or injuring the female genitalia for non-medical reasons and is recognized internationally as a violation of the human rights, the health and integrity of girls and women.
Girls who undergo female genital mutilation face short-term complications such as severe pain, shock, excessive bleeding, infections, and difficulty in passing urine, as well as long-term consequences for their sexual and reproductive health and mental health.
Read more – click here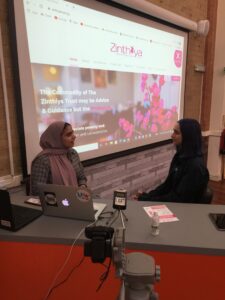 Resources: 
#EndFGM Newsroom hosted at the Zinthiya Trust Chapel Cafe – 6th February 2017
UK Government's Female Genital Mutilation Resource Pack