Resources: Language Cafe
The Language Cafe is hosted at the Documentary Media Centre, 14 Northampton Street, Leicester on the 1st Saturday of each month between 11:00am – 1:00pm.
Each month is themed and we invite a guest who can share their national language/s with us.
During our first Language Cafe of 2022, we had a guest from China….Layla. Here she is talking to Shahy, Carole and regular attendee Joan.
If you would like to join us either at the Documentary Media Centre or via zoom please get in touch via the Contact function on the Parallel Lives Network home page.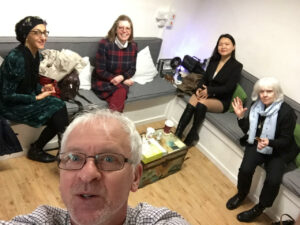 Click here to view – Documentary Media Centre Facebook Page Livestream