DocXplorers Series: Jane Holden
The DocXplorers Series involves John Coster interviewing industry practitioners and issue experts from across the Parallel Lives Network's Members and supporters.
Next up is Jane Holden who is challenging herself to a 26 mile marathon with a difference!
Jane is the Director of Fundraising for the Andrew Grene Foundation that runs the Andrew Grene High School in Haiti. Currently, they use charcoal to heat the food for the daily lunches provided. This is expensive and bad for the environment, so they would like to swap this for new gas stoves. The cost of implementing these changes is £2,500, so this is Jane's fundraising target for this challenge.
The difference this year is her marathon will be run across 26 hours. One mile, every hour. 
She will start at 6 am on her birthday (24th Feb) and finish at 8 am the following day. The last mile will be 1.2 miles to make up the full marathon distance.
Good luck from us at the Documentary Media Centre and happy birthday!
We kickstarted Jane's challenge with a donation of one of our 5 amazing Wonderbags – these were purchased from Ken Dunn's Africa's Gift NGO that works alongside community NGO's in Lesotho. Ken is planning to manufacture these in the Caribbean soon and the Andrew Grene Foundation wish to purchase them for the High School. Great to see two Parallel Lives Network members brought together.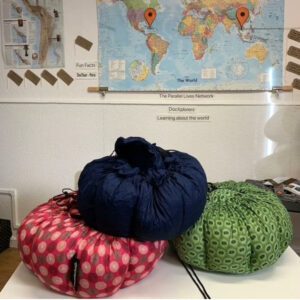 If you wish to support this challenge please read more on their website – click here