Partnership: LSPR Jakarta, Indonesia
LSPR International Relations and Partnership Office, officially welcomed the Documentary Media Centre, Leicester, United Kingdom via an online MOU signing on Tuesday, 8th March 2022. It was signed by John on behalf of the Documentary Media Centre with Mr. Mikael Yulius Cobis M.Si. M.M, the Dean for Faculty of Communication Studies at LSPR Communication and Business Institute.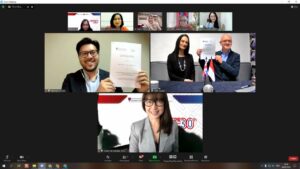 "We're pleased to share the commitment to higher education internationalisation and the promotion of international academic and research collaboration".
We've agreed to collaborate as follows:
Lecturer exchange program
Seminars & workshops
Internship program & job fair
SDG activities
Live briefs and for other opportunities or other potential forms of collaboration and partnership agreements in the future
We hope this partnership will also strengthen our global relations while we are writing history together and make globally competent graduates.