Day 1 #16DaysOfActivism
Join us for #16DaysOfActivism from across the Parallel Lives Network.
I'll be interviewing members about their own particular take on activism and what it means to their cause.
The programme runs from Friday 25th November – International Day for the Elimination of Violence Against Women – through to Human Rights Day on Saturday 10th December.
I've recorded a short clip below detailing the volunteering opportunities available through the Parallel Lives Network. Please get in touch via the 'Contact' area on the homepage if you would like to discuss this further.
To mark International Day for the Elimination of Violence Against Women (25th November) I'm posting this image from the exhibition space in Leicester called BETA X. This week there is an exhibition of artwork created by survivors of abuse currently supported by the Zinthiya Trust. They took part in a workshop led by artist Lis Naylor www.lisnaylorart.com – please pop into BETA X and support the participants by sharing the work on social media.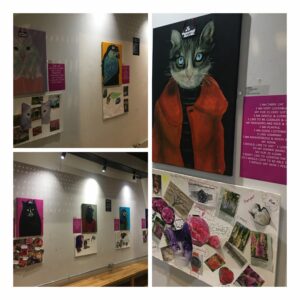 The Documentary Media Centre today hosted the launch of The Lyme Museum's (TLM) first pop-up exhibition. Congratulations to TLM Founder, Dr Angela Stienne on bringing this dream to fruition. The exhibition is open to the public on Saturday 26th November 13:00-16:00 and next week – Friday 2nd & Saturday 3rd December 13:00-16:00. Please note Saturday 3rd December is International Day of Persons with Disabilities.
The exhibition offers an informative insight into the daily life of someone living with a hidden disability. The flatlay photo montage is particularly powerful.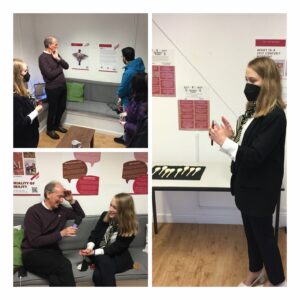 Follow the interviews & events across our social media channels #16DaysOfActivism