Day 9 #16DaysOfActivism
Welcome to Day 9 of #16DaysOfActivism from across the Parallel Lives Network.
The Lyme Museum is a small independent online museum exploring, sharing, and amplifying the voices of individuals with invisible illnesses and disabilities.
It explores the intersection of arts, humanities and medical sciences and challenges museum and societal representations of the chronically ill.
I'm delighted to host their very first pop-up exhibition here at the Documentary Media Centre in Leicester and also celebrate their membership renewal of the Association of Independent Museums (AiM), especially on 3rd December 2022…..International Day of Persons with Disabilities.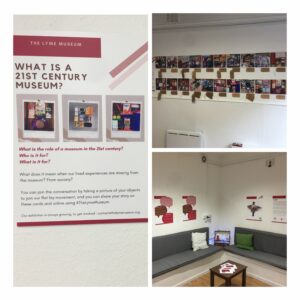 Today was the exhibition's final day and it attracted many friends and supporters of this ground-breaking virtual museum project. There were a few live stream interviews so please check those out on The Lyme Museum Instagram channel. Also, Dr. Angela Stienne, the Founder & Curator of The Lyme Museum did an audio piece with Russell Hobbs of BBC Radio Leicester and an interview with Year 2 Journalism student Delta Dobson (left pic on the right).
A special mention of thanks to Ilenia Atzori (bottom pic on the right speaking with Russell Hobbs, BBC Radio Leicester) who on a train strike day jumped a coach from Brighton! That's a commitment…we salute you!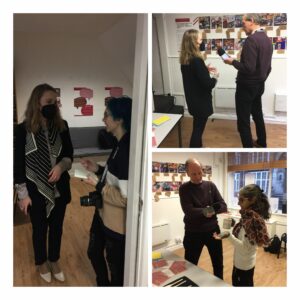 Please follow The Lyme Museum on its social media channels and also take some time to visit their website:
The 3rd December annually is the United Nations International Day of Persons with Disabilities – read more