Day 16 #16DaysOfActivism
Welcome to Day 16 of #16DaysOfActivism from across the Parallel Lives Network.
We've reached Day 16 and the final day for our event using the #16DaysOfActivism hashtag.
What better day to end it ….10th December….the annual Human Rights Day.
It's been interesting seeing the many NGOs globally who have taken up the opportunity to promote what they do and this has included the Zinthiya Trust, using a daily post on Facebook promoting the excellent work they do at the coalface of serious social issues here in Leicester.
Thanks to everyone who has participated through either a like, share, retweet or comment. Every little helps. Also, all my interviewees, who gave their time freely to speak with me about their work, the social issues that drive them as individuals or their organisations, and the part that activism plays in their lives.
Some people questioned whether they were in fact activists, some saying they were advocates……in my mind the most important thing is that we don't let words define who or what we do. Instead, we should seek to do the things that make the most difference especially if it improves the status quo for an individual in need of support.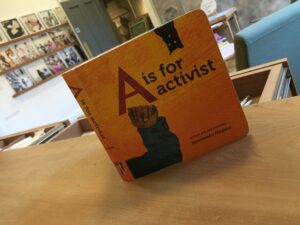 So what was the point behind doing this #16DaysOfActivism programme, campaign, event?
Well, I want YOU to do something…..anything!
No matter how big or small you think it is, it is still better than doing nothing!
Every day a blog post was created with a link to someone making a difference. Follow them, message them, and support them when they next do an event that could do with your participation or just spreading the word.
Often we let stuff get in our way or slow us down when it comes to finding out what is going on with a particular subject or news item.
The time for doing nothing, being disinterested, or feeling there is nothing you can do about an issue has long gone.
We can talk about Human Rights today and every day but let's think about our Human Responsibilities to each other.
No one should be hungry, without a safe place to live or the chance to be meaningfully engaged in economic activity that is free from exploitation.
Get involved, help out…..if not you, then who?
Thank you,
John C