Talk: Davao del Norte State College in the Philippines
I was invited to deliver two guest lectures related to the SDGs for the students of Davao del Norte State College, New Visayas, Panabo City, Davao del Norte in the Philippines.
I particularly like giving these types of lectures as it's an opportunity to draw on both content related to lived experience from the Parallel Lives Archive and directly relevant to the student's own part of the global south.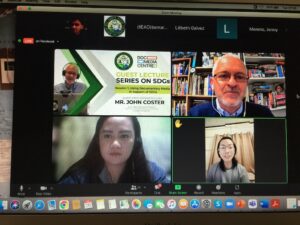 We are also ready to sign an MOU (Memorandum of Understanding) between the Documentary Media Centre and Davao del Norte State College.
I look forward to the formal MOU signing ceremony and starting to plan how we can collaborate on documentary media projects going forward.