Day 10 #16DaysOfActivism
Welcome to Day 10 of #16DaysOfActivism from across the Parallel Lives Network.
You may already know we have a Researcher in Residence – Dr Paul Reilly at the Documentary Media Centre. He is a great advocate for our work and always engages in our events like the latest #16DaysOfActivism – you can watch our interview together on Day 4 – click here to view the blog post.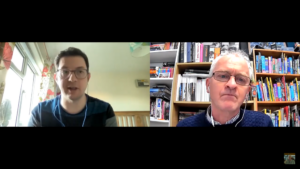 Exciting news for us here at the Documentary Media Centre….
We have recently started looking to expand the pool of expertise here and I'm delighted to share we now have an Archaeologist in Residence!
Yes, that's right…..our own dare I say it….NO! I'll resist the cliche of comparing him to a fictional character, who apparently is soon to make his 5th outing!!
It's great that Thomas Bowers has agreed to come on board here at the Documentary Media Centre and enthuse us in his world of archaeology.
We are planning an event in early 2023 for him to introduce himself and share what he does on a daily basis and why we should all care about the past, but in the meantime, he has been checking out (pic below) some of the items here in the Documentary Media Centre's collection.
We will be reaching out to our Parallel Lives Network members to see if there are projects, they are involved with, across the global south we can support through this new exciting addition to our pool of experts.
I'm also excited to share that we will shortly be registering the Museum of Community Media – our collection of the Citizens' Eye community news project content (2008-2014) – with the Association of Independent Museums (AiM). As we prepare for an exhibition in 2024 to mark the 10th anniversary of its closing we are in conversation with a Film Archivist to take up residency at the Documentary Media Centre and support us with our 1200+ films on YouTube….more in early 2023!
Please get in touch if you have a project that you would like to discuss: [email protected] or use the Contact section on the home page.